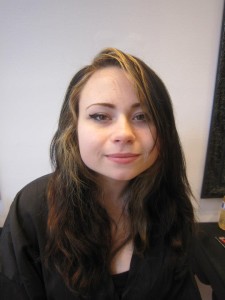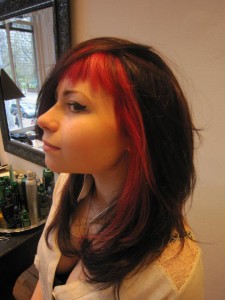 One of our favorite transformations, yet — a true hair rehab for a super stylish chick. 
It'd been awhile since Rachel had been to a salon; for years, she'd experimented with different hair colors, different stylists & home treatments.
She'd been growing out her last cut — a chin-length bob — for many months when she finally sat down in Daniel's chair, bummed about her over-processed hair.
Daniel quickly reassured her she could keep her length and even color her hair again thanks to gentle new treatments like overlay, which temporarily repairs damage by sealing every strand of hair in a glossy, protective coating that gradually wears off over time.
They chose a deep espresso gloss to offset bright cardinal swaths framing her face. We particularly love how her choppy new bangs add edge while softening the contrast between her dark hair & ivory skin. The bangs also bring interest to Rachel's smooth brow — check out how the high part in her Before pic draws attention a w a y from her eyes, while this new haircut practically underlines them!
(BTW, beautiful brow job, Rachel)
Recommended products: In addition to Rene Furterer's Okara product line, Rachel should consider Rene Furterer's KARITÉ intense nourishing oil to keep her over-worked locks in top condition. It's a luscious-smelling (orange! vanilla!), luxurious deep-conditioning treatment for before you shampoo your hair. Simply massage into dry, unwashed scalp & hair 5 to 10 minutes before you step in the shower. Shea oil and other natural fatty acids protect, repair and even rebuild the structure of the keratin.