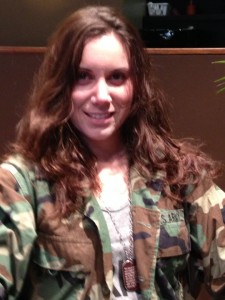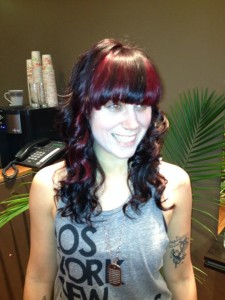 While Nicole's natural tousle of curly brown waves was gorgeous, she didn't feel particularly connected to her style. She wanted a look that better expressed her fun, edgy personality.
Daniel cut bold, bright bangs across her brow, highlighting her eyes. He deepened her color, and framed her face with dramatic swaths of oxblood/burgundy. Then he softened everything gently with a brunette overlay, filtered further with Natural Glisten.
By layering effects, Daniel creates radiant, multi-faceted color.
Might be hard to see in this photograph, but Nicole's hair makes her peaches-n-cream complexion POP!
Recommended products: Rene Furterer's line of  products for color treated hair uses Okara extract, a derivative of the soybean plant that has a structure similar to hair's natural keratin. Rich in amino acids, it restructures and repairs hair from deep within, while protecting color.